"Elevating jewellery into an art form" – Motley meets Scott Wilson, lecturer, design denizen and author of the latest Motley collaboration.
Let's start at the very beginning. How and why did you come to jewellery design?
Growing up, I was enamoured by 'The Face' magazine. I was the only person in our small village to have a special order for it. The one and only newsagent in the village was, in a way, my first gateway in a pre-internet era, into the creative realm.
My mum was another major point of reference and inspiration: colour coordinated, styled hair, clean skin, season-based makeup (depending on her tan pre- and post-holidays) and her collection of platform heels which she wears to this day, at the age of eighty.
And of course her jewellery. She never leaves the house without statement earrings, at least two to three rings, and something of mine. My mother taught me what it means to be creative with one's image: the creativity in dressing in a way that expresses yourself and, most importantly, the creativity of being inspired and excited by one's choices. Cliché though it might be…thank you, Mum.
My studies also have a lot to answer for. My jewellery tutor during my foundation course taught me to think beyond the village I was brought up in. He made me realise that my upbringing could be the force driving me to discover and experience as much as I possibly could across art, fashion and design. He taught me bold in an era of change; to think of volume and shape in an unconventional way. This was the late 80s: I discovered Thierry Mugler, Jean Paul Gauthier, Christian Lacroix, Azzedine Alaïa and Comme des Garçons.
I see that time as the beginning of my journey of creative influences: from the unknown emerging artist I discovered at Royal College of Art, Central St Martin's and Goldsmiths to the work of a sculptor I came across during a visit to rural Norway. Throughout my career, I've drawn inspiration and creative fuel from a multiplicity of sources.
What are the rules of good design? Are there any?
Design with passion, design with longevity and design with functionality in mind. Failure, feedback, hard work and dedication are components integral to the longevity of an artist, designer – and jewellery.
We often work on fast-paced rhythms within our professional life. I have come to realise – from my own failures – that slowing down, focusing on quality and concentrating one's creativity in fully resolved creations is key to feeling successful – and content within oneself. Only then does a creative have the ability to communicate and inspire through their work, I think.
What do you think is the most common misunderstanding about the jewellery industry?
That jewellery, especially fashion jewellery, is transient and quickly becomes dépassé. I'm excited to see conceptual and fashion jewellery reach new levels of appreciation. In academia, Caroline Broadhead is spearheading a new era of academic discourse on jewellery, body adornment and the use of the jewel as an expression of one's identity, creativity and self. Through exhibitions at design and art museums around the world; from the recent incredible show at the MET (The Body Transformed), to shows that transcend the more traditional spheres of jewellery in the V&A, Die Neue Sammlung in Munich, The Jewellery Gallery at Musée des Arts Décoratifs, MFA Boston, Museum of Art and Design New York – to name but a few! This renewed focus and research is elevating jewellery into what I believe to be an art form.
Artists such as the creative partners Emmy van Leersum and Gijs Bakker – and many more – have set the way with trailblazing work, inspiring a whole new generation of creatives to further the parameters of our field.
A final factor that contributes to the crossover of art and jewellery is the strengthened appreciation of jewellery by visual artists and specialist gallerists in the field such as Louisa Guinness and Didier, that invest time and effort drawing attention to the jewellery work of visual artists from outside the jewellery world: Man Ray, Ettore Sottsass and Alexander Calder. Such galleries have added another layer of appreciation within the field that was not prevalent when I was studying and which has added richness to the world of jewellery overall.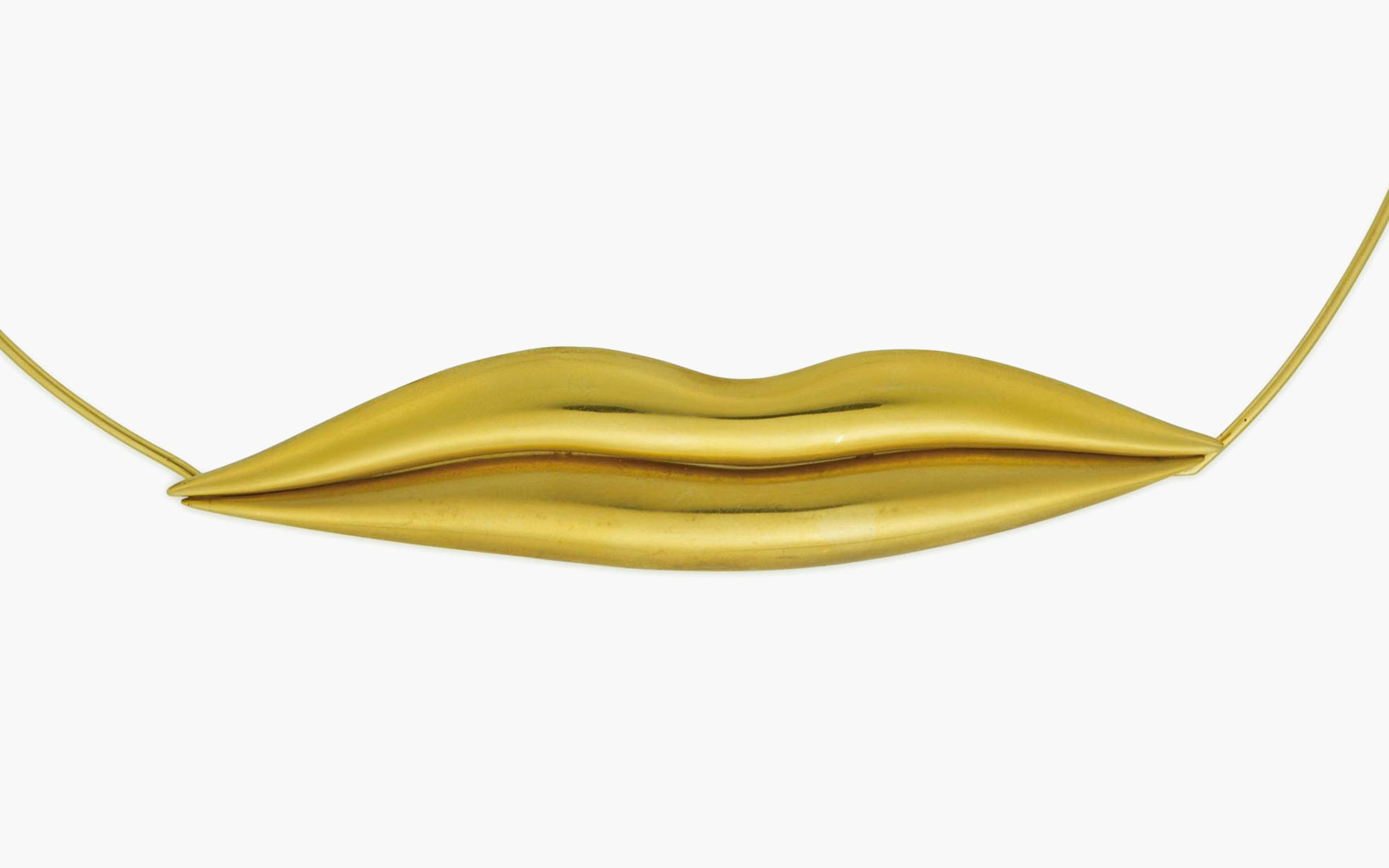 Misconceptions about jewellery are slowly but steadily starting to become areas of creative discussion and debate. As self-celebratory as it may be, I am happy to be part of this moment and part of this discussion.
You are also a lecturer: has teaching changed your practice?
It makes me more reflective, introspective, empathetic and communicative. Teaching is key. As an Austrian thinker / philosopher (who I shall keep anonymous) once said to me, "we can never ever stop learning and the best source of learning is through the eyes of a student". Students are uninhibited and unrestrained; their perplexing and inquisitive perspective, thirst for change and evolution and fresh eyes on centuries-old traditions have the power to change the visual language of jewellery. If I can I hope to teach for a while to come as this kind of dialogue is important to me.
What topics do you rant about?
We live in a world saturated with design and over-designed products. The test of time often reveals if they are successful or not in terms of their long-term appeal. You'll often hear me talk, or as you put it to rant, about unresolved, rushed designs and I try to follow and teach the following mantra: 'Think twice and then think again before bringing a design into the world.'
Where's your favourite place in London?
This is a very tough one to answer as London has and still is a huge inspirational force for me, but I'll limit it to two. The first is 2 Willow Road, designed by Ernö Goldfinger as his family home in 1939; the other is Isokon Building in Hampstead, designed by Wells Coates in 1934, with famous residents including, Marcel Breuer, Walter Gropius, Agatha Christie and László Moholy-Nagy.
What do do you listen to while you work?
Disco: Loose Joints: Is It All Over My Face.
Salsoul Disco: The Salsoul Orchestra: Love Break
Sufjan Stevens: Michigan & Seven Swans
Nina Simone: Baltimore
Esther Phillips: From A Whisper To A Scream
Jazz: Stan Getz, Chet Baker
Philip Glass
Grace Jones
NTS Radio
NYC Downlow
You only have time to save one object in a fire: what do you save?
Not as interested in objects in the context of a fire, so in a twist of an answer I'd say I'll grab my partner in one hand and my ceramic sculpture by the Greek artist HOPE in the other.
If you could sit next to anyone from anytime in history at dinner, who would it be?
Peggy Guggenheim, to hear those legendary stories about the loves of her life –  art and all of her artist lovers.
Is there a book, picture or play that changed your life?
DV8 Physical Theatre – they were a relatively new dance company when I saw their production 'If Only' at a small theatre in Northumberland. It was the most unlikely place to see experimental movement, dance and theatre and impactful set design combined.
Best advice you've ever had?
Don't think about it (too much) – just do it! That's in response to my tendency to overthink within my creative process.
Who would you most like to see wearing your jewellery, who hasn't yet?
Interesting question! I am tempted to say Ru Paul – he is fierce, inspirational, legendary and wise. A true pioneer. Read his TIME 100 most influential people in the world interview. It says it all.
Which particular art genre or architecture influences the shapes and geometry of your designs?
Modernism is in my heart and has inspired me and continues to do so for over fifteen years now. Movements such as Art Deco, European and American Modernism as well as Mid-Century Modern design have also been crucial in the continuing development of my creative language and visual identity.
Architects such as Le Corbusier, whose groundbreaking perspective on shape, form and light interacting with functional design without compromise, have been of great inspiration to me.
It sometimes feels peculiar articulating what influences a creative and how it informs their work, yet it's crucial to me to credit one's research. The act of creating effectively pays homage to all the stimuli in the creative process. That may be architecture, nature, art, historical objects by unknown craftsmen, animals, a discussion with a friend or simply the flavour of a meal or the sound of a tune: all components to be respected, credited and honoured within the creative process.
As for individuals: I'd have to say Hungarian architect and designer Ernö Goldfinger, Swiss architect Peter Zumthor, American architect Louis Kahn, Mexican architect and engineer Luis Barragán and Oscar Niemeyer.
Where do you go to get inspiration?
I'm inspired by engineered details of everyday objects, material observations – whether working directly with skilled artisans or something as simple as a challenging brief from a client which sparks the creative process. Inspiration is about openness and receptiveness, being able to distance yourself from the project and look at the objective of design more holistically with openness on what can spark one's creative process.